The graphic here is a fragment of my Drivers Liscence photo ID given a metallic effect which I must say hides all the hideous features quite nicely. I dare say that I appear somewhat handsome. You'll find more descriptive shots of me below, and in the SCENE section.
The summary of the rest is as follows:
Name: Zlatan
Date of Birth: Let's just say I graduated from Gordon Bell Highschool in 1982.
Gender: Male
Height: 6 '4
Weight: 185 lbs
Eye Colour: Grey (with a splash of Green)
Race: Caucasian (As if that matters anymore)
Hair: Dark Brown (When It's not dyed Black)
Number of Cats: 2
Shoe Size: 13
Favourite Music: Gary Numan is a God to me. Eighties New Wave was my first love. I've went from Numan, Ultravox, John Foxx, OMD, Kraftwerk, and Visage to recently enjoying artists like Therion, Diary of Dreams, Razed In Black, Armageddon Dildos , KMFDM, Berzerker, and Rammstein.
Favourite Author: HP Lovecraft (I should also mention Ramsey Campbell & Clive Barker)
Place of Origin:
Cara, a tiny village on the side of a mountain on the island of Korcula which is just off the coast of what used to be called Jugoslavia.
Status: Single. Interested in Women, by the way. Not there's anything wrong with being Gay, but I'm totally Straight, thank you :)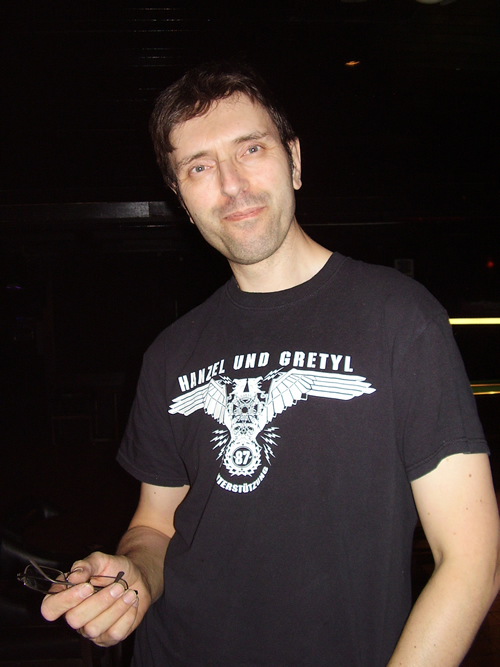 Biography:
Man, I hate doing this 'cause it feels so narcisistic, but maybe for whatever reason you want to know this nonsense, so here we go:

Born May 13, 1964 in Dubrovnik, my family came over to Canada in 1967 and settled in Winnipeg, Manitoba. I went to Laura Secord Elementary and then graduated from Gordon Bell Highschool in 1982. Musically, I fell in love with New Wave and then listened to anything alternative, and after highschool I got involved in bands such as Vav Jungle & Spastic Time. In the early 90's I started putting on events for which I booked local bands and DJs, then got involved in Scavenger Vacuum which played a few shows before disolving. After Scavy Vac, I started Groit which was me, Murray Toews (who is currently doing Random Interference), and John Martinuk.

Every weekend was spent religiously going to Wellingtons which was where I met Gord (DJ Count Zero) who was doing the Goth Night down there when it was called the Crypt. Apparently, my devotion impressed him enough that later (while at Die maschine in 1996) he recommended me as his replacement before he left for BC. Bloody Hell, I was nervous! I didn't even want the position, but someone had to continue the night, I owed it to Gord. I gave it my best try and, then from there I went to DJ at Wellingtons, then it was back to Die Maschine, then Ozzies, then Die Maschine yet again, and now I'm helping out DJ Rachel with the Cryptic Chaos night at Monty's. In between the DJing I still performed with Groit, did a stint with Anal Vomit, and had a lovely run with Exalted as their keyboardist. Either way, The Night Lives on!
Dark Parlour Magazine: Happy to say that I contributed to this cool publication. It's started off as a small magazine (44 pages), but it's significant in its content; for example: one of the featured Models, Saphire Rainforest, is non-caucasian. In pretty much every Goth or alternative magazine I've come across, I've rarely come across features on Models who are Asian, Hispanic or Black. Goth Culture isn't all about only slender white folk, you know. Dark Parlour is on Facebook as well having its own site through which you can order print or downloadable copies: http://www.wix.com/scorpiuscarmine/darkparlour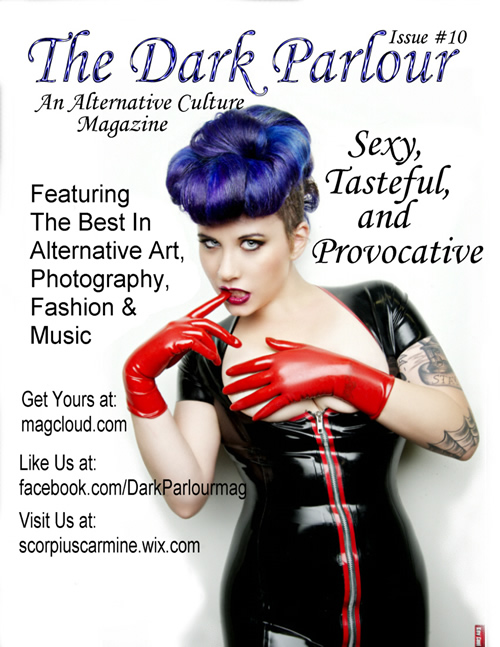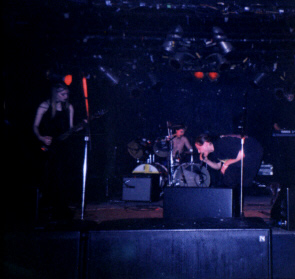 A Brief Introduction:

Exalted, a Goth Metal Band in which I used to play keyboards, was formed roughly two years ago .......I think (Time means nothing to a creature such as myself). We have gone through three members and have evolved to the final line up.
The Photo you see here was taken at The Zoo, a live act venue here in Winnipeg. The lovely young lady you see on the left is our Guitarist, Lucypher. Way in back is Chuck, our Drummer. To the right of him is our Vocalist/Lead Guitarist and only surviving original founding member, Rob. Barely visible next to Rob is yours truly on Keyboards, and completely invisible to the right of me is our Bass Player, Joe.
The band dissolved somewhere about 2003. A non-musical re-union took place at Louis' wedding. You should have been there! It was a perfect warm sunny day, and her dress was simply beautiful. So stunning with the white makeup, she looked like a ghost bride from a Grimm Faerie Tale. Below is what could be called the final band photo taken at the wedding. Going from Left to Right, we have yours truly (Bloody Hell, I could have sworn that I shaved!!) , Louis/Lucypher, Chuck (Huge Dani Filth Connoisseur, the guy must have everything that Bucket of Filth ever released), and Former Band Leader, Rob, a hardcore punker at heart.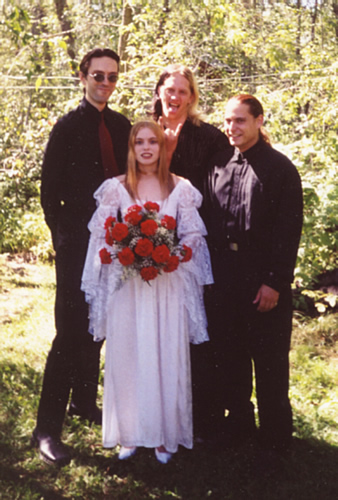 He was a great friend. He loved me, and depended on me. He liked everyone he ever met. He never knew you, but if he met you, he would have liked you as well. He was a kitten when my Best friend, Leslie (and apartment mate at the time) brought him home as hers. He grew up to become a huge fur bomb, and Leslies combination of allergies and my spoiling him rotten amounted to him eventually belonging to me. He was the most beautiful, fluffy, friendly, soft, orange ball of warmth you'd ever meet, and he held an special place in my life. I will always regret never having a photo of him. Maybe I took it for granted that he would always be around.
He contracted feline urinary syndrome and I did what I could, but at the time I was on social assistance and there was only so much I could do. I cried most of the day when I had to let them put him to sleep. The operation that would have saved him was too expensive for me at the time.
It's a terrible thing when someone who loves you and depends on you, and you can't afford to keep them alive.
This section of the site is extremely personal and dedicated in his memory.
Other Beloved Friends: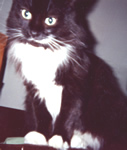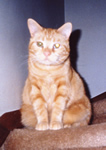 The fluffy little girl to your left is Cleo. I found her 1993 as an abandoned kitten on Halloween, but if this snooty little princess could talk, she'd probably tell you that SHE was the one who found ME. He loved her from the moment I brought her home, and within minutes they were playing and chasing each other about the apartment. I thought the three of us would always be around for years to come. April 23, 2011, after 17 years with me, she passed away. With age came kidney failure and the decision to help her pass on peacefully & mercifully. I took comfort in at least knowing she was re-united with him.
The orange fuzzy fellow on your right is Sunshine (whom I adopted from a friend and stuck with the name he came with......personally I would have named him Marmalade). He never met Sunshine for he passed away before this time. If they had met, they would have been great friends. Sadly, Sunshine was born with health issues; respiratory and other problems which got increasingly worse as he got older. Medication that worked before was becoming less and less effective, and eventually on Sept 16, 2010, after 12 years, I had little choice but to send him to sleep. A wonderful & absolutely friendly little fellow, Sunshine loved everyone he ever met, and God knows he is missed.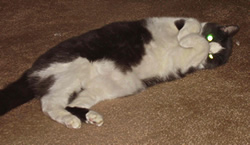 The little Lady you see here is my current housemate, Pixie. Like Sunshine, she was adopted from a friend. She's an affectionate little girl who insists on cuddling with me if I sit or lay in one space for too long. Without her, the house would feel so empty.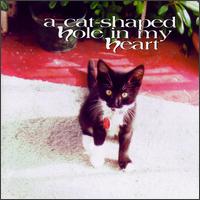 Losing Sunshine and Cleo was heart rending. Another who had suffered a loss of a companion is Projekt (and black tape for a blue girl) founder Sam Rosenthal. After losing his beloved Vidna to Feline Leukemia, he put together an album of songs about cats, performed as a tribute to our feline friends, "A Cat-Shaped Hole In My Heart" . A Wonderful and touching compilation, each band contributed a song about their own cat and donated their full artist royalties to a Chicago-based charity, the Tree House No-Kill Shelter of Chicago. It is such a beautiful disc; there are songs in this CD that that make it difficult to hold back the tears when I listen to them. If you have a cat, or if you've ever cared about one, then please visit their site.
They were our friends, they were important to us, and had a place in our lives that can't be replaced. We'll dream about them, and always think of them. Nothing will ever erase them from our hearts. We want the world to know that we deeply miss them, cherish their memory, and love them always, and if cyberspace reaches Heaven, then Punkin' will know this as well.