Welcome! Here you'll find information about local musicians and DJ's. Let's start off with:


Razed In A New Division Of Agony - A musical project by our friend Logan E. who also hosts "Everything's Gone Grey".
Specifically, it's Logan Edwards, and occasional guest vocals from Tracey DiLascio from the United States. Starting at around 2004 when he tried out for the first Community New Order tribute for neworderonline.com, he's working on putting out his own tribute to New Order as his first release because "they are the band that got me into music in the first place with the song True Faith".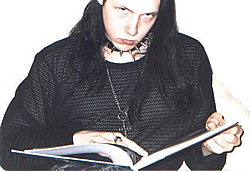 It will be called Touched By The Hand Of Goth (Not to be confused with Sub Terraneans Goth Compilation Series) and will feature a mix of electronic and industrial takes on classic New Order tunes.

Some additional info about Everything's Gone Grey (Logans podcast): He takes requests. People can request by sending a message to the Myspace account or at this email: doutseventhere@hotmail.com. The show has run for thirty episodes as of this Sunday. If there are any of your original material you'd want him to play, feel free to e-mail an mp3 or four. ;)
Now then, to hear and see what Razed is all about, do visit the bands site at: Myspace: www.myspace.com/razedinanewdivisionofagony. What's even cooler is that the band will be collaborating with Carly of Nocturnal Divinity on a cover of the Lacuna Coil song To The Edge. Razed is also working on covers of Remember Me by The Birthday Massacre and Dreamline by Rush. They're first album will probably no longer be exclusively New Order songs, but will feature several New Order covers, as well as everything from Joy Division to Republica.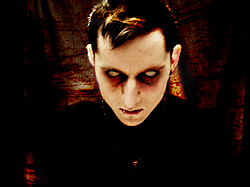 DISTORTED MEMORY - an Industrial/EBM creation of Jeremy Pillipow who has in the past substituted for me in the DJ booth. Pretty cool stuff. If you're into Hocico and God Module & Dawn of Ashes (whom I personally have suspicions that they are all the same guy), you'll like this. Known affectionatley by some here as Distorted Hocico, you can hear what I mean by visiting the band's MySpace page.
Excellent work, Jeremy! Having made a name for himself,he collaborated at one time with local industrial project, Suturefuge.
Produced and released his own demo in 2003, "left alone to die" under the pseudonym "Distorted Memory", then created a full length album " Beyond the Darkness" for Noitek records in 2003. released "Burning Heaven"in 2006 which garnered good reviews within goth/industrial community's. In European tours, industrial festivals, he headlined with other big acts like Hocico.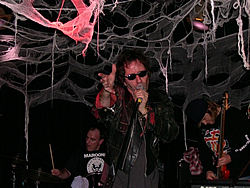 CHOCOLATE BUNNIES FROM HELL - A Classic Alternative Rock band that's been around since the 80's (when the word Alternative had meaning) they are still Alive and ROCKING!!! Lead by His Majesty P.J. Burton, the music blends punk, The Cramps, and Ramones. I would personally call them Winnipegs First Goth Band, although I'm not sure whether Nasty Teeth might have been around before them. Anyway, to read more about them and listen to a couple of their classic tunes, please visit band's TuneVault page.



Dorian's Gray- Formed in 2006, this amazing band is comprised of founding members Nevion and her band mate, Bryce. I loved their stuff from the moment I heard it. I'll let them tell it in their own words: "Dorian's Gray exists to reveal beauty, truth, and art. Their lyrics are often sexually liberating, at other times satirical, and often designed to expose religious hypocrisy. While their music is not designed for any grand socio-political purpose, the artists are not afraid to speak out for what they believe in. With passionate lyrics, gut-wrenching vocals, pulsing synths, devastating bass-lines, and blood-spattering beats, the beauty that is Dorian's Gray is music for the elect, to whom beautiful things mean only beauty. The result is a sound that is entirely their own, somewhere in the gray area between industrial rock, electro, EBM (Electronic Body Music), and trip hop." To learn more about Dorian's Gray, visit their MySpace page.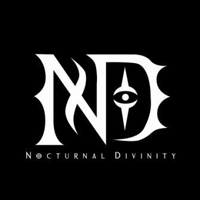 Nocturnal Divinity- What I would consider Amazing Goth Metal! Fronted by the lovely Carly Iskierski (Vocals), the band consisting of also Matthew Toews (Guitar), Brian Layer (Bass/ Vocals), Mike Milner (Keyboard/Vocals) and Frank Molnar (Drums). I think of them as Winnipeg's answer to either Nightwish or Lacuna Coil, and they deserve recognition for the work they do. For more information, visit the Nocturnal Divinity MySpace page.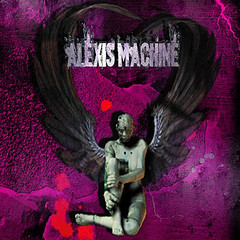 Alexis Machine - Described as a 'VAMPIRIC GOTHIC/METAL/INDUSTRIAL BAND', these guys are cool. Influeneced by bands such as Nine Inch Nails, Marilyn Manson, Powerman5000, ROb Zombie, Motley Crue, Ratt, Depression, and Ozzy, their music brings to my mind bands like The 69 Eyes, and just Look at this!!!! Influenced by Ratt!! How cool is that?!!!! To listen for yourself, check out their Myspace at http://www.myspace.com/alexismachine , and if you'd like a copy of their excellent CD, go to: http://kunaki.com/sales.asp?PID=PX00Y7TTL9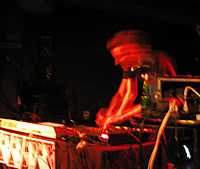 Cakebuilder - A side project of Distorted Memory. Very infectious blend of industrial, breakcore & rave. Do check out their Myspace site at http://www.myspace.com/cakebuilder for tour dates, songs, videos, pictures, blogs, band information, downloads and more.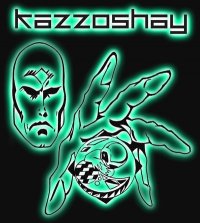 Kazzoshay - An incredible band featuring Vigoramity's Adam JOhnstone, it is (in Kazzoshays own words) 'Winnipeg's own, prog-shock band! Hard hitting metal-rock surfaced by synths. Think the Cult meets Alice Cooper, meets KMFDM!? Well all you have to do is listen, and you'll find out!' Alongside the Facebook presence, you'll find a website at http://www.myspace.com/kazzoshay
Their Official Website is: http://kazzoshay.wix.com/kazzoshay, and you can get their music at: https://itunes.apple.com/us/artist/kazzoshay/id376443180.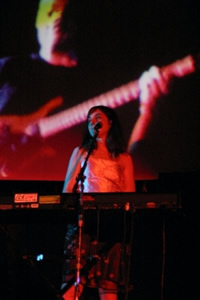 Querkus - With influences from classical music in the layered string arrangements and intricate paino borrowing from Mozart, Querkus is usually the duo of lead vocalist and pianist Karen Asmundson and guitarist/producer Edgar Ozolins. Both have studied classical technique for years. Querkus is at home in the world of visual art, and this connection with art and film comes from a close involvement in music and audio production for local film productions. At a special event in 2006, Querkus celebrated
David Lynch's 60th birthday with endorsement from Lynch himself. Shortly after a Querkus track titled Rubbing My Eyes was added to a compilation CD that was given to Lynch by his own Foundation as a birthday gift.
Querkus launched their first recording, an EP titled No Direction, in 2002 to a sold-out audience. The EP charted on college radio stations across Canada. A performance in Toronto was recorded and later released in 2003 as The Fire Behind Us which featured a remix of No Direction track October 16 by DJ/Producer Joe Silva. Since then Querkus has undergone a metamorphosis: moving from all electro to an electro-acoustic hybrid. The recording of a full length album began in fall of 2006, and featured many of Winnipeg's finest including the Animata String Quartet, Steve Martens (drumkit) and Joshua Stanton (tabla). Karen and Edgar handle the rest of the instruments and vocals.
Their website is at http://www.myspace.com/querkus.
Terebelam - A Gothic heavy metal Band along the lines of Nine Inch Nails Meets Black Sabbath with Disturbed cryptic lyric writing, it's members are Author Steuart on lead vocals/Lyrics, Alex Zandretta Guitar/ samples/Ducktape, and Chris Burgandt on Guitar. As their website explains, "Terebelam is nothing new in the industry. It has garnered fans from Texas to the Philippines and everywhere on the Internet. The line-up is actually interesting soon as you get to hear the whole album. You'd be anxious to find out who the hellmakers are behind the vampiric treat . The vocals of The Lash isn't a foolish babble nor a silly nibble. Every utterance is dark, every hellish gobble twists, every scream torments, every sound loads energy, and every accent defies the power of anguish and rage. There's a strong gravitational power within the pitches and attitude. Zandretta displays a noticeable clever preference for chemistry
of sound as he invades the Vampire Night with his guitar."
Their Official website is at http://www.myspace.com/theofficialterebelam where I recommend you listen to "Anybody but You". I remember seeing these guys perform at Ozzys some years ago and I hate to say that I had lost track of them. My thanks to Ryan for bringing them back to my mind.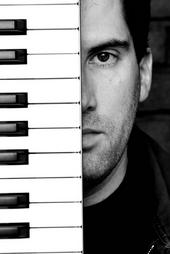 Cloudfight - Under the category of Electronica/Classical/Industrial you'll find this guy, Michael Lewis. Formerly known as Stand Alone Complex, Mike paints a masterful soundtrack of delicately crushing piano explorations on a background of moody and yet sexy beats and vibrating strings and sounds. As of this writing, Cloudfight are still in the process of putting out an official recording. For now, one can lisyen to a CD of Stand Alones, "Music for Suicides". A desire to continue living, constantly waging war against a desire to end it all. The end result of a battle against natural selection, Music for Suicides represents a journey through the deepest, darkest pits of hell, beginning with "Last of the Long-term Friendships", and ending with the possibility of redemption in "A Lullaby for Gwynedd." Each song was born out of a decision to carry on living, taking the rage and despair that threatened to take over and focusing that energy into something worthwhile. The album flows like a soundtrack, and while each song can stand on its own, it works best as one single piece. Incorporating bits of orchestral influences, combined with down-tempo electronic music and soundscapes, Music for Suicides represents a fusion of cold, clinical electronics and seething, furious emotion." It should also be mentioned that Michael has a second musical identity alongside Cloudfight, Soul Killing Female which is a more industrial, abrasive, beat-driven sound. This guy is really making a name for himself, believe me.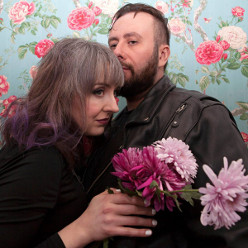 Ghost Twin - Launched in April 6, 2013, this husband & wife duo consists of Karen Asmundson (Vocals, Electric Guitar) & Jaimz Asmundson (Vocals, Synths, Jawa) performing what they describe as
Ghost Twin is dark synthpop that combines roaring synthlines, dirty pulsing bass, dreamy guitar, and a haunting vocal dichotomy where Baroque meets Industrial, with live video percussion that feeds cinema through a cut-up technique imbued with occult aesthetics. Their audio/visual performance creates a full sensory evocative narrative of shadowy haunted rooms occupied by astral phantasms and electronic voices from beyond the aether."
Signed to Artoffact / Head in the Sand, they had gotten WCMA 2016 - Electronic Artist of the Year (Nomination), and deservedly so.
As of this writing, they have released PLASTIC HEART (2017), YOU BRING THE WORST OUT IN ME, YOU'RE ALL LIARS (with Kindest Cuts) (2015), and HERE WE ARE IN THE NIGHT (2015)

Contact email is hereweare@ghosttwin.com
http://www.ghosttwin.com
https://www.facebook.com/ghosttwinmusic/
http://www.instagram.com/ghosttwin
http://www.soundcloud.com/ghosttwin
http://www.twitter.com/ghosttwinmusic
http://www.youtube.com/c/ghosttwin
Coming eventually, profiles of:
Morbidity Mortality
Chaos Theory
Exalted
The Horribles
Johnny Zhivago
Groit
Fixer
Fanny
Venetian Snares
Headsor Tales
Cold Fusion